I'm thankful that a friend of my wife and I has graciously loaned her writing services to address an important issue for all parents to think about.  Please carefully consider the truths that Angel Hartzler writes about…
I don't consider myself to be an old, crabby, out of date Mom. However, there are certain things as a parent that I am incredibly vigilant about.
We have four daughters. Their purity is something we guard daily.
I believe that how we choose to dress says a lot about purity. It is a daily challenge. And I believe as parents we have to be proactive every single day because our kids will try to test us. Whether it be tight pants, short dresses, bra straps showing, or now that it is summer, bathing suits.
They will test the limits. The easy thing to do as parents is to allow our daughters to wear and dress like everyone else. However, We do not and should not want the easy way. We want the way that Peter describes in I Peter 2:21…
"To this you were called, because Christ suffered for you, leaving you an example, that you should follow in his steps."
We want our daughters to follow hard after Christ. Modesty is part of the journey. Although we make all the "rules", our prayer is that they would know the why's behind the rules.
Scripture does address modesty. Here are a few of the lessons we teach our daughters as we encourage them to dress modestly:
Discretion. Proverbs 11:22 says "Like a ring of gold in a pigs snout, is a woman who lacks discretion." Discretion is the quality of behaving or speaking in such a way as to avoid causing offense to someone else or revealing something private. Our bodies are private. They are to be kept secret from this world and saved for another person. Discretion is an absolute must in keeping our bodies pure. I Corinthians 6:19 says "Do you not know that your bodies are temples of the Holy Spirit, who is in you, whom you have received from God? You are not your own." We need to teach our daughters to be young women of discretion.
Different. It is ok to be different. It is ok to be the only girls wearing something that is not showing their tummies or have a revealing neckline. It is ok to be confident in who you are, knowing that showing off your body is not God's best for you. Romans 12:2 tells us to not be "conformed to this world." We are called to live differently from this world. How can we look like Jesus and the world at the same time? We cannot. Our lives have to be different. We need to teach our daughters to be young women who are not afraid to be different from the crowd.
Deep Matters. They way we dress says so much more about our heart than we realize. It exposes our inward beauty or lack thereof. The Bible says in 1 Peter 3:3-4 "Your beauty should not come from outward adornment, but from the inner disposition of your heart, the unfading beauty of a gentle and quiet spirit, which is precious in God's sight." These are the qualities that others are attracted to. We need to teach our daughters to be young women whose beauty is deeper than the surface.Here is a story I found about Muhammed Ali and his daughters. I'm not endorsing his Islamic faith, but I think what he said has some application on the subject at hand:"When we arrived, the chauffer escorted my youngest sister, Laila, and me to my father's suite. As usual, he was hiding behind the door waiting to scare us. And we exchanged as many hugs and kisses as we could possibly give in one day. My father then took a good look at us. He sat me down in his lap and said something I will never forget. He looked me straight in the eyes and said: 'Hana, everything that God made valuable in the world is covered and hard to get to. Where do you find diamonds? Deep down in the ground, covered and protected. Where do you find pearls? Deep down at the bottom of the ocean, covered up and protected in a beautiful shell. Where do you find gold? Way down and in the mine, covered over with layers and layers of rock. You've got to work hard to get  them.'" He looked at me again with serious eyes and said, 'Your body is sacred. You're far more precious than diamonds and pearls, and you should be covered too.'"
Discernment. Modesty also involves an awareness of others around us. It is realizing that the way we dress affects others more than we realize. Philippians 2:4 says "do not merely look out for your own personal interests, but also for the interests of others." There is no question: others are looking at what we choose to show. We want not only to protect our daughters but our sons. We need to teach our daughters to be women of discernment.
How do we live this out? It is easy to share biblical truths, but how does this work in our home? For example, we have a pool. From the first day this pool was built we have made a rule for everyone who swims that there are no bikinis allowed. At the time I did not realize what a controversial statement this would be in the lives of our children and their friends. We had planned our first pool party. It would be all Jr. High girls. One girl refused to come because it would mess up her tan lines if she was not allowed to wear a bikini. One mother called and asked what her daughter was supposed to wear. I allow the girls to wear a t-shirt over their bikini if that is all they have. One other mom of young daughters had never heard of not being allowed to wear a bikini. She wanted to know why and I was able to share some biblical truths with her. She was extremely interested having never thought of these things before. One little girl came to swim in her athletic shorts and dry fit t-shirt but she was embarrassed to tell her mom about our no bikini rule. She was only 9.
I share these stories to show that this is not the norm, not just in this world, but with believers. It would be easy to allow these kids to wear whatever they want. But we are not choosing easy. We are choosing to obey God's calling in our lives and in our home and hope that it impacts everyone that comes here.
In all these things our goal is not to create a list of "do's" and "don'ts" that make us feel more 'Christian' or allow us to check more 'boxes'. Rather, we want them to embrace the Biblical role of a woman that de-emphasizes the externals, emphasizes the heart and looks out for others to not make them stumble. If I as a Mom can instill these truths in my daughters, I will thank the Lord and trust that He will continue to use their young lives for His glory.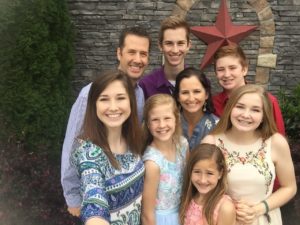 Corey and Angel Hartzler have been married for 17 years, they are from Ohio, but the military has taken them to many different States. Corey has served in the United States Air Force for 24 years and retires in July.  They currently live in McDonough, Georgia and attend Momentum Christian Church.