I'm excited that Karina Hale accepted my invitation to share with you some important things to consider when you're interacting with a parent, relative, or friend of someone who has received some discouraging medical news. Or maybe you're even interacting with the patient him/herself. Karina and her husband Kurt had to walk through that life event themselves, and these words from Karina will challenge our hearts in how to best minister in this tough situation. Here's Karina:
If you haven't faced this circumstance in your life yet, read on and be prepared because the day is most likely coming. Walking through tragedy with someone you love is very difficult. Let's face it: sometimes it's just plain awkward. It seems like these days we have a tendency to shy away from these situations. We find ourselves saying things like:
"We'll probably say the wrong thing anyway."
"They probably need time alone."
It seems completely foreign that we might press in to these awkward moments.
Well, as a mom who's walked through the valley of the shadow of death with a child, I'd love to share some things I've learned on my own journey, as well as what I've learned from walking with many others.
First: Put yourself in their shoes. Before you offer a word, imagine it is you facing these circumstances. What would you be feeling? What would be your fears? What Scriptures would you cling to? What would be your practical needs? Do these thoughts bring tears to your eyes? Good! Show them! Grieve with them! Those tears communicate your love for them! Don't be deceived into thinking you must be strong for them!
Second: DIG IN! Hold their hand. Bear their burden with them. When they get weary in the fight, help hold their arms up to Jesus for them! Exodus 17:12: "But Moses' hands grew weary, so they took a stone and put it under him, and he sat on it, while Aaron and Hur held up his hands, one on one side and one on the other side. So his hands were steady until the going down of the sun."
Third: Sometimes silence is golden. Don't feel like you have to say anything. When your best friend's child is diagnosed with a debilitating disease, there may be no sufficient words. That's ok. Maybe Mom and Dad are being transparent with some questions in their hearts. You don't need to have the answers. It is perfectly ok, and sometimes completely appropriate, to sit silently holding their hand. Right now we see in a mirror dimly, right? We're squinting in a fog, peering through a mist. One day we'll see it all as clearly as He sees us (1 Cor. 13:12). Today is not that day.
Fourth: Recognize prayer is your most powerful resource. What is always appropriate is to offer up prayers on their behalf. Did you know that sometimes we don't even have the words to say when we pray? When our hearts are badly hurting what words can we even offer up? Fight in prayer for your friends in the quietness of your home. Pray with them, vulnerably showing the prayers your offering up on their behalf. Pray with your kids, transparently involving them in the truth of heartache, but also the power of God! Pray for the bolstering of your friend's faith through this trial! And thankfully, when we just don't know how to pray, our Savior steps in to our weakness. "In the same way the Spirit also helps our weakness; for we do not know how to pray as we should, but the Spirit Himself intercedes for us with groanings too deep for words; and He who searches the hearts knows what the mind of the Spirit is, because He intercedes for the Saints according to the will of God." (Romans 8:26,27)
Fifth: Find time for simple encouragement. Parents who are admitted into the hospital for long periods of time with their child, or even at home but have a rigorous hospital schedule may struggle with time in the Bible. Sleep may be little and stress is high. These situations make attempts on us. They aim to take out our hope, destroy our time, replacing it with worry and fear. One of the best things you can do for your friend is show that you're thinking about these things. Send random encouraging text messages that will strengthen and feed their faith, as their fear is full and overflowing! Send them Scriptures throughout the day as the Lord brings them to your mind. When you do your Quiet Time and read a verse that you think they need to be reminded of, post it to Facebook for them to wake up and read! "The Lord is my strength and my shield; in Him my heart trusts, and I am helped; my heart exalts, and with my song I give thanks to Him." (Psalm 28:7)
Sixth: Be loving, yet truthful. Please, don't assure your dear friends that their loved one is going to be fine. As I said, I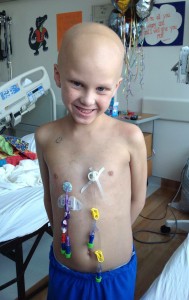 have walked through the valley of the shadow of death. My son was diagnosed with a rare form of Leukemia at age 7 and was given a 20-30% chance of survival. Countless well-meaning people declared their confidence that he would be just fine. What a battle took place in me every time those words were offered. After all, how did they know Gods plan? It also became pretty popular to quote Scriptures out of context, such as, "By His stripes we are healed". Yes…so true! That verse offers eternal and immediate hope, but it does not offer a guarantee that my son will be healed on this Earth. God's plan may be to heal him ultimately and perfectly in Heaven. May I offer a better alternative? Remind your friends of Who our God says He is; Who He's proven to be in His Word. That His goodness is not based on His "yes" or His "no" to my requests, but based on Who He is! His sacrifice for us on the cross! His finished work in conquering death and offering salvation to us by grace through faith! Our eternal hope of eternity with Him! Remind your friends of HIS words! "From the end of the Earth I call to You when my heart is faint. Lead me to the Rock that is higher than I, for You have been my refuge, a strong tower…" (Psalm 61:2-3a)
Seventh: Stay involved in the details. Get to know the situation they're facing well; ask questions! It's all that's on their minds anyway! As you acquaint yourselves with the intimacy of their circumstances as well as try to relate with the heartache, your friendship will grow unwavering roots. You may be the one they call with the exciting news of remission or the dreaded news of disease progression. What an honor, because you've proven that you care! "Two are better than one, because they have a good return for their labor: If either of them falls down, one can help the other up. But pity anyone who falls and has no one to help them up." (Ecclesiastes 4:9-10). He's a good Father and He's perfect in all of His ways, but these situations remind us that "His ways are not our ways and His thoughts are not our thoughts" (Isaiah 55:8-9). They're higher! But He's promised to those who love Him that He will work it all out for our good and His glory! The best thing you can do for your friend is be the sweet smelling, refreshing breeze of encouragement in Christ!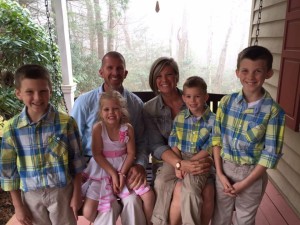 The Hale's live in Jacksonville, FL, where they are actively involved in their local church and frequently reach out to other families who have been where they were in their fight against cancer. To ask Kurt or Karina a question you can contact them here.